For the artist
Program outlines and proposals for cooperation
Issues, questions and phenomena from a contemporary perspective, springing from the countryside and urban-rural interface form a broad framework in program planning and curator work at the Kunsthalle Seinäjoki. Four outlines within the scope of which the program is constructed are: Space, Process, Presence and Dialogue. Kunsthalle Seinäjoki features individual and group exhibitions, from Finland and internationally. The main interest of the Kunsthalle lies with the Nordic Countries. Kunsthalle Seinäjoki develops collaboration with art halls of the Nordic Countries.
Learn more about the program design tools:
Program outlines in finnish (pdf)
Program design template in finnish (pdf)
All proposals for cooperation regarding exhibitions or other programs are reviewed by the exhibition team of the Kunsthalle. Contacts to the Kunsthalle's exhibition coordinator (exhibitions) and art producer (supplementary program). See contact details here here.
AARG gathering as a meeting place to discuss the current role of contemporary art in the countryside
Kunsthalle Seinäjoki host a gathering on the concept of art institutions developing and researching the rural areas and countryside. AARG (Art and the Rural Gathering) is a meeting space for art institutions to make new productive relationships. AARG wants to support the development of geographically dispersed network of art institutions and productions by co-delivering the programme together. Networking, sharing of concerns, development and mutual support by building up productive relationships is the overall plan to launch AARG gathering as a meeting place for art professionals. Learning from others what are the new initiatives in the countryside and how art institutions can reflect the surrounding areas with artistic methods.
First gathering took place as live broadcast on the 10th of December 2020. You can read the programme from here.  Collaborators: Taiteen edistämiskeskus, Frame Contemporary Arts Finland, Viborg Kunsthal and Havre Magasinet, Morning Boat, Askeaton Contemporary Arts, Rejmyre Art Lab and curators Taru Elfving and Yvonne Billimore. AARG was funded by Frame Contemporary Art.
Kunsthalle premises
Halli is an exhibition space on the 2nd floor of Kalevan Navetta. As to its architecture, Halli is a hall. The total area of the Halli is 520 m², the height is 3.5 m. The surfaces are of concrete showing layers of time. The atmosphere in the premises is spicy and rough, but the form of the space is well-defined. One birch plywood wall brings warmth to the space. Uncovered structures and elements of the roof render a look of rough personality to the space. It is easy to transform the space using lights and temporary structures. It is possible to close the window shutters to block the natural light. The photo is taken of the Halli during renovation.
The Workshop space Itikka (58 m²) is located next to Halli, on the 2nd floor. It is used for events and audience development.
Photo: Anne Kaivo-oja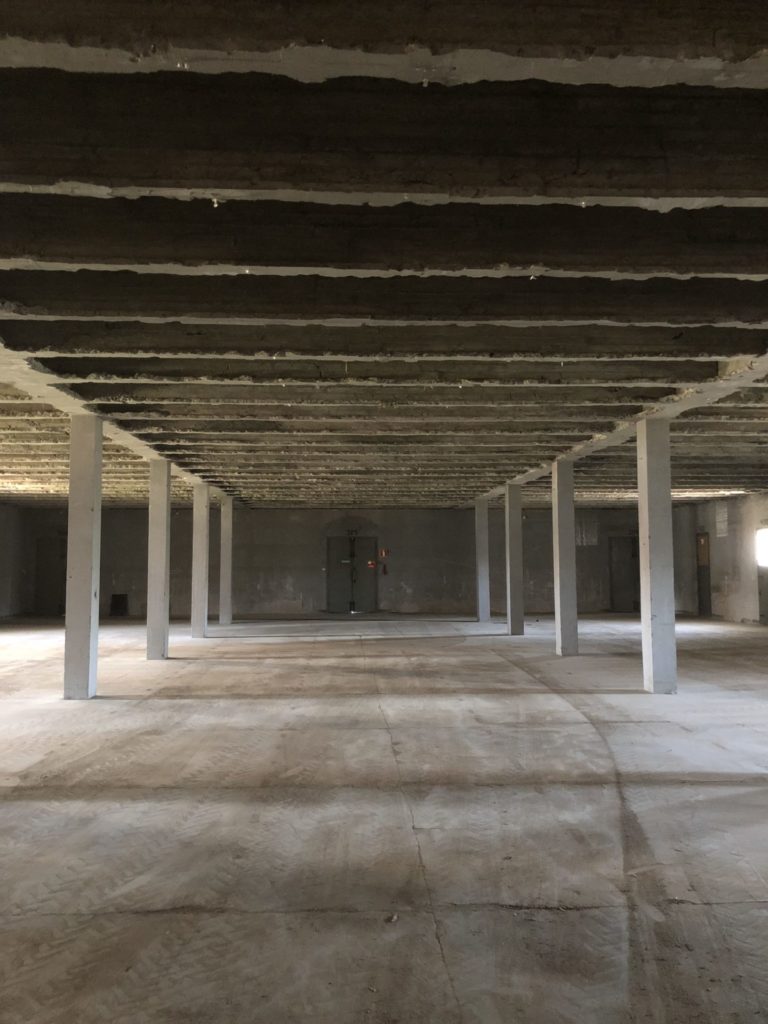 Vintti is located on the 3rd floor. The roof rises over 7 m at its ridge; the floor area of the space is 267.5 m². The surfaces are of wood from the floor to the roof, except for the gable wall, which has been preserved red-brick as originally built. A circular window in the wall resembles a rose window in a church, giving the premises a unique feel. Temporary structures can be used to install exhibitions. Photo: ISLE Art Industries