26.8.2020 - 21.11.2020
Per Svensson: Alchemy – The All Seeing Eye
Per Svensson's exhibition Alchemy – The All Seeing Eye at the Vintti of Kunsthalle Seinäjoki is a broad and generous presentation of the artist's art practice throughout the years. The exhibition consists of architectural installations, video works, artefacts, sound pieces, drawings. The title work is a round video projection that is seen in the staircase on the 2nd floor, on the way to Vintti. Per Svensson's art practice draws from the close relationship  between scientific investigation and poetic uses of natural phenomena. The works of Per Svensson conjugate, as in the cabinets of curiosities, metaphor and experimentation, science and magic, the spark of life and the shadow of death.
The associations that Per Svensson creates among elements and symbols from different disciplines suggest alchemy as the foundation of art and creativity. Through experiments, alchemists attempted to produce pure metals such as gold and artists strive to remake or reassemble all the residues of reality through the aid of technical, scientific or magical tools.  For Per Svensson, "alchemy is to do your own thing. To free the mind and not to follow leaders. It is to walk your own path, to trace your own drawing, to not stop the poetry".
In Alchemy – The All-Seeing Eye, we are invited to encounter works that engage in the ongoing liberation from given and fixed systems.
The exhibition is produced by Färgfabriken in Stockholm and Röda Sten Konsthall in Gothenburg. Both are significant art institutions for Persson: one former and one current atelier neighbor. The exhibition was seen in these places in 2018 and 2019. The exhibition is curated by former Röda Sten curator Mariangela Mendez Prencke. It was also exhibited at the Luleå konsthall, from where it came to Seinäjoki. All of the past exhibition spaces as well as Kunsthalle Seinäjoki in Kalevan Navetta carry a strong link to history which is important for the artist.
Per Svensson, Gothenburg, Sweden (b. 1965)
Artist Per Svensson works in the fields of sculpture, painting, drawing, sound installation, film and architecture. Svensson is educated at The Royal Institute of Art in Stockholm 1985-1990, and at The Royal Institute of Art Department for Architecture in Stockholm 1999-2000. His works have been exhibited at Moderna Museet in Stockholm and Malmö, Ystad Art Museum, Lusaka National Museum Zambia, LACE in Los Angeles, Heliostrum in Köln, The Art Acadamy in Budapest, The Gothenburg Museum of Art and MHR in Reykjavik, among others.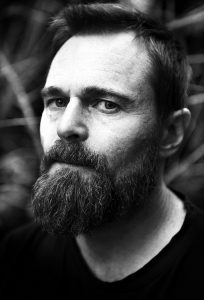 Picture of the artist: Annika von Hausswolff
Picture: Photo by Jenni Latva.