25.2.2023 - 29.7.2023
Ville Kirjanen, Aleksi Kolmonen and Aeon Lux: Trinitas
Bringing three artists together, Trinitas is a rich and storied exhibition that discusses the questions of humanity and manifests the importance of maintaining connections. Combining sculptures, photography, and video, the show places images and findings from modern humanity onto a kind of altar. The works agitate the normative gaze at this moment and flirt with the idea of failures within historical continuities. Ville Kirjanen, Aleksi Kolmonen, and Aeon Lux create spaces in the Vintti exhibition space that borrow from the ideas of places of worship and religious practice. Artists, performing together for the first time, are united by critically examining  the multiplicity of being human and cultural phenomena. Sanna Karimäki-Nuutinen has curated the exhibition, and the artists have been invited from among the applicants who aroused interest through an open call in 2021.
The starting point of the works of Ville Kirjanen and Aeon Lux is a blockage in the continuum between the present and the future. The artists reflect on which things—phenomena and paradigms—remain in our time as part of the human story. On the other hand, Aleksi Kolmonen's art celebrates humanity at this moment.
In Kirjanen's reliefs and statues, there are suggestive reflections on how humanity changes, especially as we integrate more and more deeply into technology. Is the entire world order collapsing, or is modern technology leading us to a transhumanist utopia (or dystopia)?
Kolmonen creates a monumental photo installation for the exhibition, representing mainly people from gender and sexual minorities. A peculiar, dreamlike aesthetic that plays with contrasts emphasises the reflection of utopian freedom of self-expression in the works. Kolmonen's work pursues dialogue and respect for the people being photographed—telling firsthand stories by the subjects themselves. Connecting with oneself is sacred, and it helps to create a more authentic connection with others as well.
Lux's ceramic sculptures and drawing animations are built around the idea of a misunderstanding. The archaeologist of the future constructs a theory about the people of today. Archaeological finds that draw from the aesthetics of anime culture and image editing applications mix with reality—man becomes superhuman. Lux tells a recurring story in human history about becoming a hero or god-like, not by rising but by falling.
Artist bio's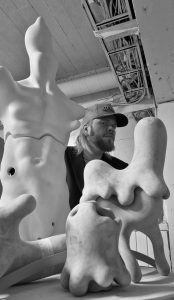 Ville Kirjanen (b. 1984, he/him) is a visual artist living in Pori. He mainly works with ceramic sculpture and performance. The sculptures often depict fantastic organs or organisms that have started independent lives. They have broken free from the body in whose shelter they may have originated. Kirjanen has held numerous solo exhibitions and participated in group exhibitions. In addition to his artistic work, Kirjanen works as a producer and, in recent years, has, e.g. organised the popular Ars Pori exhibition. Kirjanen graduated as a visual artist from Kankaanpää Art School of Satakunta University of Applied Sciences in 2010.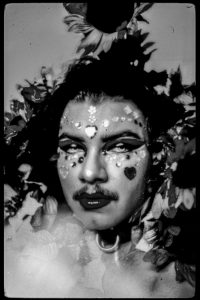 Aleksi Kolmonen (b. 1996, he/him) graduated from the Pekka Halonen Academy as a visual artist in 2015 and is now completing his studies at the Turku Academy of Arts. As a man with a trans background, Kolmonen is interested in exploring gender and sexuality through art. The most important thing for him in his work is freedom, playfulness and finding a connection. In the past, his works have been exhibited in the B gallery and the WAM art museum's Spektri exhibition in Turku. His first video work SUO was published as part of Utopiaako?—a project which dealt with the longing for personal utopias within LGBTQ+ communities.
Oskar Öflunds Stiftelse sr. has supported Kolmonen's work.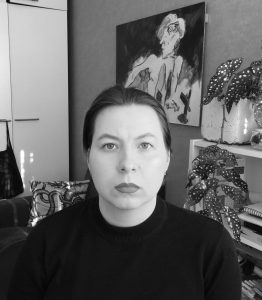 Aeon Lux (b. 1993, she/her) is a visual artist from Seinäjoki who is, above all, a storyteller. In their art, Lux combines opposites, turns archetypes on their head, and changes the destinies of the characters. Their art is often described as intelligent, humorous, and erotic. Lux is a multi-media artist whose recent work has focused on ceramic sculptures, fictional stories, and video art. In addition, Lux annually curates a performance club for the program of Kunsthalle Seinäjoki. Lux graduated as a visual artist from Satakunta University of Applied Sciences' Kankaanpää Art School in 2017.
The Arts Council of Ostrobothnia has supported Lux's work.