2.6.2022 - 27.8.2022
Mammu and Pasi Rauhala: Bears All Things – First 10 years
The artist couple Mammu and Pasi Rauhala celebrate their joint project of a 10-year journey with an anniversary exhibition at Vintti in Kunsthalle Seinäjoki. Bears All Things (originally in Finnish 'Kaiken se kestää') is a lifelong art project where the artists document their daily lives wearing their wedding attire. The work is continuous and intertwined with the everyday life of the artists, from home renovations to yard maintenance. The undertaking, which began in 2013, has been carried out annually. The works explore time, humanity, and interpersonal relationships. A vital component of the oeuvre is the photographs in which artists look seriously at the camera while wearing their wedding outfits. Over the years, the work has also evolved in its form to include video installation, performance, and sculpture. In addition to Bears All Things, other correlative series have emerged—focusing on issues related to love and its preservation.
The anniversary exhibition features a selection from a period of ten years, complemented by new works made for this exhibition. Associations between the show and Vintti's exhibition architecture vacillate through its church-like features; its high gabled roof and round rose window. The new video work Tin Wedding is inspired by the space. Here, the artists stand like an altar of matrimony and welcome visitors to their celebrations, which never end. The duration of the video reflects the past decade. Weathered matrimonial apparel and renovations, in turn, concretize the passage of time.
The themes of change and permanence as well as daily life and merriment, are in dialogue in the exhibition. The use of their wedding attire in routine tasks is surprising in a humorous way. Additionally, they accentuate their gestures and demeanour with a stiff seriousness—borrowing from the traditions of family portraits to everyday situations. The long-term art project suggests looking at marriage and wedding institutions—themes of relationships and their transformations—from various perspectives on an individual and greater societal level. Mammu and Pasi Rauhala say that "the world is changing as well as concepts of the home and our relationship with it. Our art celebrates the daily decision to accept change together."
Congratulations to the Tin Wedding couple and welcome to the celebrations!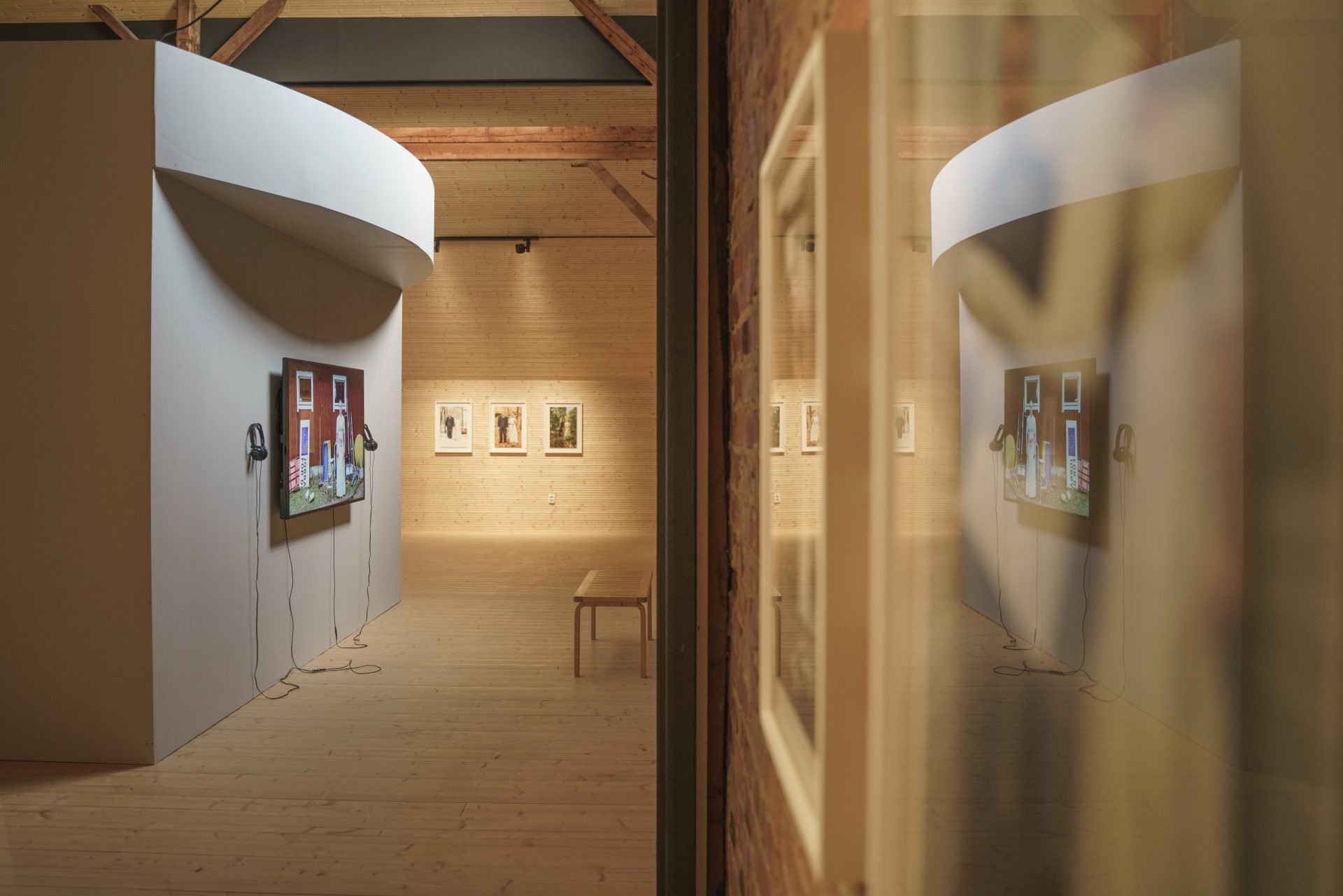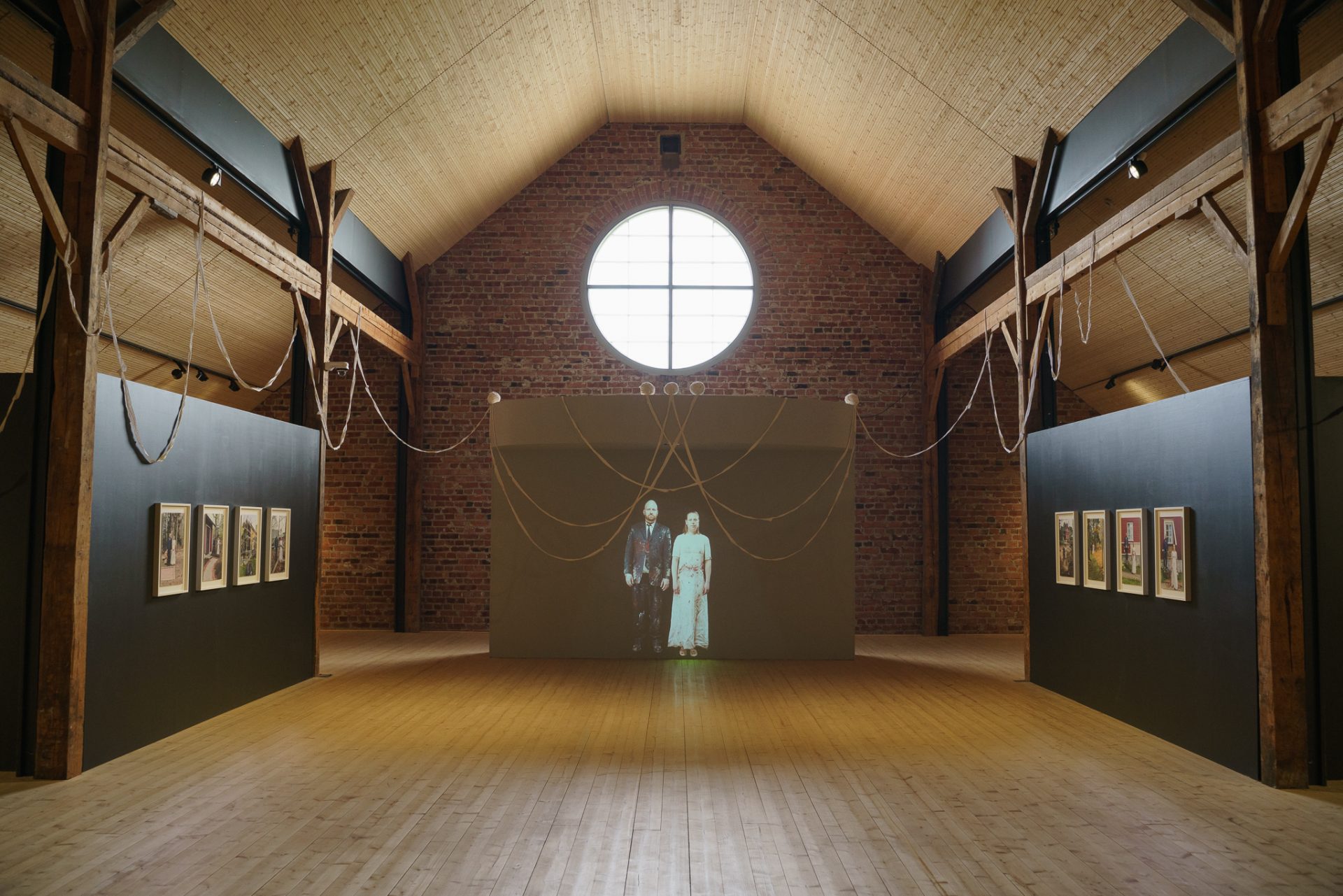 Exhibition view Bears All Things, photos Mika Rinta-Porkkunen
Mammu and Pasi Rauhala
Mammu Rauhala holds a Bachelor of Culture and Arts degree in theatre. Throughout her life, she has used both the visual arts and her body to express herself. Mammu's practice experiments with, and straddles the intersections of, sculpture, painting, media art, and performance, among other things. Art masks and related performances are the objects of her passion. Together with numerous activities, Mammu has worked as a theatre teacher, director, and coordinator of applied arts.
Pasi Rauhala has a Master's degree from the Department of Photography at Aalto University and in Time and Space Arts from the Academy of Fine Arts. Pasi is a media artist focusing on interactivity, spatiality, and public space. During his 20 year career, he has taught in all the major Finnish art schools and participated in dozens of art productions as an artist, curator, producer, and coordinator. For Pasi, art is a never-ending adventure that can lead you anywhere.
Mammu and Pasi Rauhala have been working together since 2010. Bears All Things is their most important joint project, which they have been working on since 2012. Parts of the project have been on display at the Paikkari Performance Festival 2013, Galleria Forum Box 2014, Galleria Lapinlahti 2016 and Riga Art Space, Latvia, 2016. Love Never Fails has been seen at Galleria Huuto 2016 and at the Pyhäniemi Manor summer exhibition 2018. Hanging in There was seen at Mänttä Art Festival 2019 and at ARS Kärsämäki 2020.